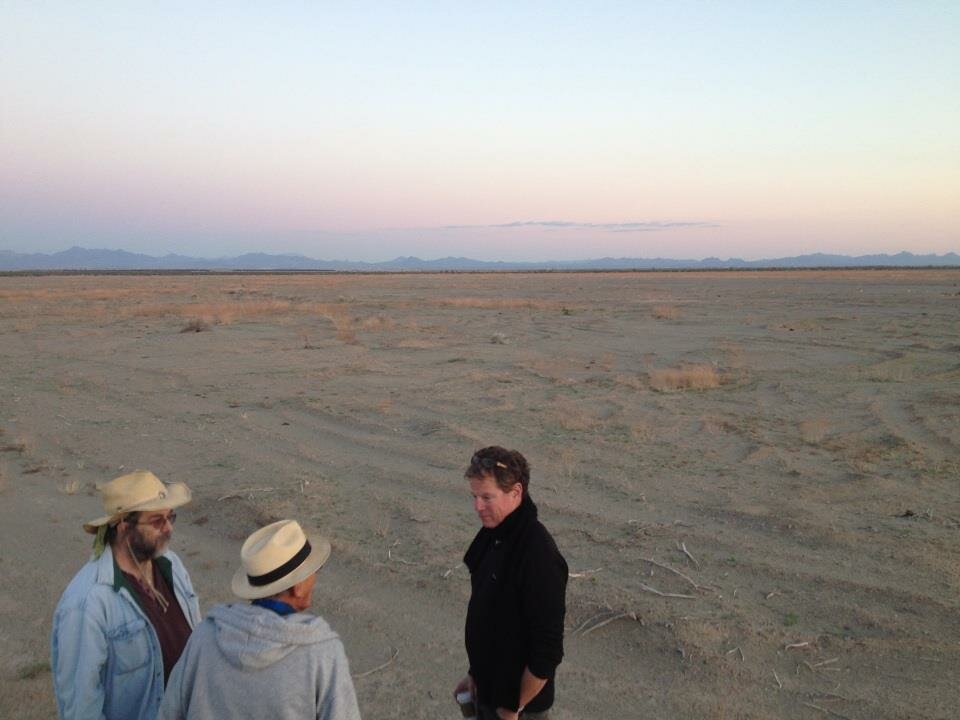 Journalist Chris Clarke, Sr. Alfredo Figueroa, and Film Maker, Robert Lundahl at the abandoned site of Blythe Solar, once touted as the largest solar project in the world. Robert Lundahl, ©2014
DIRECTOR'S STATEMENT
The film, "Who Are My People?" is my journey of learning and understanding:
In the winter of 2010, I journeyed to Blythe, California at the invitation of Sr. Alfredo Figueroa to see the Blythe Intaglios. Sr. Figueroa showed me numerous mountain images, petroglyphs and geoglyphs, which are the footprints of ancient peoples of California. I learned also that a large number of these sites are endangered due to the proposed construction of large solar facilities by utility wholesalers from as far away as Florida and Germany.
As a native Californian I grew up with trips to the desert. I was aware from an early age of the presence of Native American culture there, and that there is far more than is officially acknowledged. The presence of world class archeology and cultural resources here is California is like having the pyramids in your backyard. I was aware also that Native American communities keep it quiet. Silence is the only way to protect what remains of the past.
Sr. Figueroa told me that the situation is so dire for Native peoples that his family, friends and traditional tribal elders would come forward to describe these sites for the first time, their meaning, and importance. They also told me that while Native Elders are in favor of Solar Power, they are not in favor of it being placed on Native American Sacred Sites and pristine desert.
I was invited to make the film, "Who Are My People?" As a filmmaker, I was compelled to tell the story.